CRESSI King Crab Swim Goggles (7-15 Years)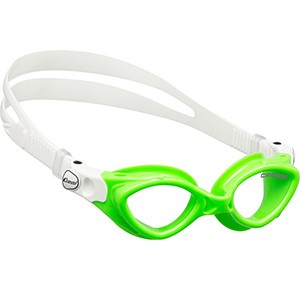 Contact Bluelize On Whatsapp
Please contact us on WhatsApp
+20 10000 65005 in case any inquiry.
CRESSI King Crab Swim Goggles (7-15 Years).

KID'S GOGGLE

CRESSI King Crab goggles is a sophisticated goggle have a new design with uniquely shaped flat lens for perfect vision even at the edges, combine fashionable style with perfect vision underwater.
CRESSI advanced technology offers Comfortable TPR gaskets form a excellent sealing on most face shapes.
Lenses are shatterproof, scratch-proof treatment and UV protection. An internal anti-fogging treatment prevents fog during use.
Silicone strap and buckle system isInstantly interchangeable strap with patented, immediate, micrometrically adjustable buckles just like those on the CRESSI-sub diving masks.
Designed for Kids 7-15 Years Old.



CRESSI King Crab Swim Goggles (7-15 Years) Features
Swimming goggles for kids aged 7 to 15 years.
Uniquely shaped flat lenses to eliminate distortion underwater.
Head strap made in high quality silicone for comfort.
Anti-fog, shatterproof, Anti-scratch, UV rays protection lenses.
Easy-to-use buckles for quick adjustments.
Made in 100% high quality TPR to ensure comfort and a perfect seal.
U.S. PAT 5.956.778
Made in Italy.