CRESSI Perla Mare Combo Set Perla Mask & Mexico Snorkel
Contact Bluelize On Whatsapp
Please contact us on WhatsApp
+20 10000 65005 in case any inquiry.
CRESSI Perla Mare Combo Set Perla Mask & Mexico Snorkel.
CRESSI Perla Two Lens Mask.
A mask particularly suitable for free diving and snorkeling, but just as appropriate for use in scuba diving.
It has separate lenses, a skirt edge that adapts to most faces and a small inner volume, perfect for free-divers.
It is made from soft transparent or dark silicone, and comes with strong rapid action buckles to adjust the strap.



CRESSI Perla Two Lens Mask Features
Two Lens Mask Designed.
Ideal for Snorkeling and Scuba Diving.
Very soft silicone.
Tempered Glass Lens.
Clear Code: DM101017.
Black Code: DM102017.
Made In Italy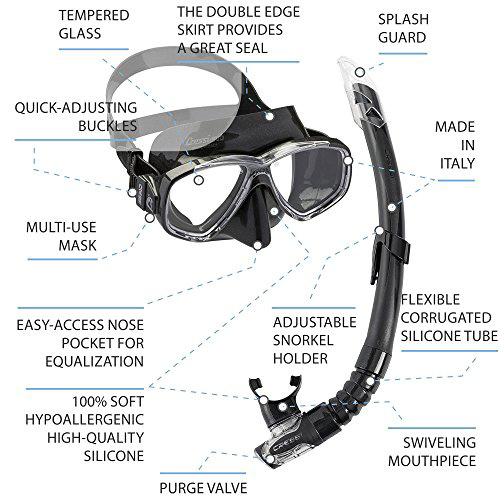 CRESSI Mexico Semi Dry Snorkel.
MEXICO is an Adult Short Snorkel with Splash Guard for Snorkeling, Scuba Diving.

The CRESSI Mexico is a classic Snorkel is a great choice for someone looking for a basic quality snorkel. The Mexico features a splash guard top to prevent water entry on the tube as well as a silicone mouthpiece to ensure comfortably in the mouth. Adjustable snorkel keeper and a clear pre-curved tube is the perfect shape to fit around the head and makes for a comfortable and easy clearing to offer a great snorkeling experience.



CRESSI Mexico Semi Dry Snorkel Features
Splash guard reduces water entry.
Classic, pre-shaped bore positions mouthpiece properly.
Adjustable clip for securing to any mask.
High-quality silicone mouthpiece is comfortable and durable.
Angled mouthpiece reduces jaw fatigue.
Streamlined design reduces drag while swimming.
Made in Italy.