CRESSI Onda Mare Combo Set (Onda Mask & Mexico Snorkel)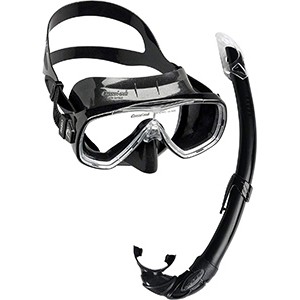 Contact Bluelize On Whatsapp
Please Text us on WhatsApp
+20 10000 65005 in case any inquiry.
CRESSI Onda Mare Combo Set (Onda Mask & Mexico Snorkel).
CRESSI Onda One Lens Mask.
This mask has a single tempered glass lens, and is designed for snorkeling, swimming and scuba diving.
Tempered glass.
The skirt is made from soft hypoallergenic transparent silicone.
The visibility provided by the single lens and the unusual shape of the frame extends in all directions. Excellent seal on many face types, average internal volume.
Quick-release strap buckles.



CRESSI Onda One Lens Mask Features
Single Lens Mask Designed.
Ideal for Snorkeling, Swimming and Scuba Diving.
Skirt: Soft 100% Hypoallergenic Transparent Silicone.
Double Feathered Edge Skirt for Excellent Seal on Face.
Low Internal Volume.
Tempered Glass Lens.
Unique Shape of Frame Provides Wide Field of Vision.
Wide Split Strap Provides Even Dispersion of Pressure for Increased Fit and Comfort.
Quick-Adjust Buckles System.
Easy-to-Reach One-Hand Nose Pocket for Ear Equalization.
Available in Multiple Color Choices.
Model: DN2070.
Made In Italy

CRESSI Mexico Semi Dry Snorkel.
MEXICO is an Adult Short Snorkel with Splash Guard for Snorkeling, Scuba Diving.

The CRESSI Mexico is a classic Snorkel is a great choice for someone looking for a basic quality snorkel. The Mexico features a splash guard top to prevent water entry on the tube as well as a silicone mouthpiece to ensure comfortably in the mouth. Adjustable snorkel keeper and a clear pre-curved tube is the perfect shape to fit around the head and makes for a comfortable and easy clearing to offer a great snorkeling experience.



CRESSI Mexico Semi Dry Snorkel Features
Splash guard reduces water entry.
Classic, pre-shaped bore positions mouthpiece properly.
Adjustable clip for securing to any mask.
High-quality silicone mouthpiece is comfortable and durable.
Angled mouthpiece reduces jaw fatigue.
Streamlined design reduces drag while swimming.
Made in Italy.