SCUBAPRO Digital Depth Gauge 330M Wrist Mount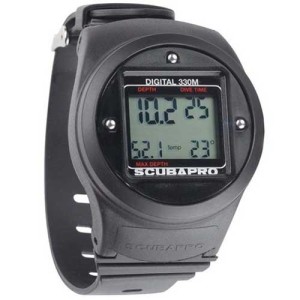 Contact Bluelize On Whatsapp
Please contact us on WhatsApp
+20 10000 65005 in case any inquiry.
SCUBAPRO Digital Depth Gauge 330M Wrist Mount.
OUTSTANDING ELECTRONIC ACCURACY
Much more than a simple depth meter, thousands of these instruments are in daily use at dive locales worldwide. The SCUBAPRO Digital 300M is a very practical instrument that incorporates state-of-the-art microchip technology, and several basic dive instruments deliver an ideal initial information data including depth, temperature, dive time and ascent speed, into a compact information center or beginning divers, and it can be a useful backup instrument for divers of all skill levels.

The SCUBAPRO Digital 300M displays actual and maximum depth (up to 330Meters), dive time and temperature (water and air). Automatic turn on and off: Wet contact activated; it is automatically ready to dive after a self-test.

Surface interval displayed for 24 hours Logbook for the last 19 dives Automatic altitude compensation Available as wrist unit, 3inline or 2/1 Console with UWATEC SPG and FS1 Compass, or in NavSlate. 330m Certified Depth Gauge 999 hours 59 minutes maximum Dive Time Ascent rate display in Meters Per Minute and fast ascent visual warning; variable ascent rate (720 m/min) for safer diving. Average Depth display during dive alternates with temperature. 19 Dive Log Memory Long battery life for over one thousand 1hour dives.


SCUBAPRO Digital Depth Gauge 330M Wrist Mount Features
Incorporating state-of-the-art technology, a bevy of information is provided in a compact information center.
Data includes actual and maximum depth, ascent speed, dive time in minutes and temperature.
Auto on/off feature means it's always ready to dive after a quick self-test.
Variable ascent rates are displayed in a percentage and with a fast ascent warning.
Depth-rated to 330m to suit all technical deep-diving scenarios.
Surface interval is displayed for 24 hours for safety and convenience.
Logbook provides data for the last nine dives to allow for post-dive review and analysis.
Provides automatic altitude compensation when changing dive locations.