SCUBAPRO Everflex 5/4 mm Full Suit Back Zip Man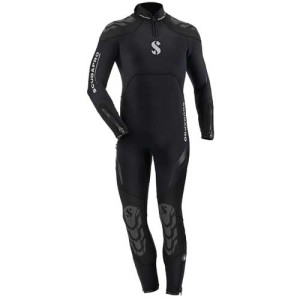 Contact Bluelize On Whatsapp
Please Text us on WhatsApp
+20 10000 65005 in case any inquiry.
SCUBAPRO Everflex 5/4 mm Full Suit Man.
LOADED WITH NEW FEATURES

Offering new sizes and a long list of improvements, SCUBAPRO's premium wetsuit line is better than ever.

The SCUBAPRO EVERFLEX line of wetsuits has long stood at the forefront of quality dive thermal protection offering Ultra warm feature.
Yet every year SCUBAPRO designers work tirelessly to improve and stylishly redesigned to give you even better fit and comfort, expand convenience features and provide even better fit and freedom. This year is no exception. Many of the same tested features are included, but EverFlex wetsuits are now in a pre-formed dimensional shape so it fits and moves more naturally with your body and delivers extra-comfortable, stretch and flexibility.Heliospan lining in the torso area of the steamers, for added protection and insulation was added by SCUBAPRO to increases stretch by 20 percent.

Durable and water-blocking blind-stitch construction, The suit has a back zipper with a durable metal zipper slider, pull tab leash, nylon webbing thumb loop at base of zipper and ankle zippers with Glide-Skin seals.

All 2017 Everflex steamers are made with X-Foam neoprene and are assembled using an innovative and environmentally friendly solvent-free water-based glue.
Built-to-last with Power Tex abrasion resistant shoulders and seat along with durable TATEX kneepads a thermoplastic rubber (TPR) that is applied without glue or stitching.
Suit has safe-straps on both arms for a securing of wrist instruments such as dive computers, depth gauges or compass.


SCUBAPRO Everflex 5/4 mm Full Suit Features
Suits are assembled using a solvent-free water-based glue. SCUBAPRO is the first in the industry to offer this environmentally and diver friendly adhesive material.
Multi-thickness panels deliver a superior combination of warmth and flexibility.
Pure Design Concept uses fewer seams and panels for maximum flexibility.
Double blind-stitched outer seams are durable and watertight, and single blind-stitched inner seams are comfortable against bare skin.
New nylon thread resists abrasion for longer suit life.
Diamond Span inner lining's water-draining material enhances cold-water protection. For 2017, it is combined with a second lining for improved stretch, making donning and doffing that much easier.
Diagonal back zipper offers increased long-term durability and ease of use.
Glideskin seals at the wrist, ankles and neck minimize water intrusion.
7/5 mm and 5/4mm suits feature double zippered seals at ankle and wrists.
3/2mm suit features single Glideskin seals at the wrists.
New neck zipper aids in donning and doffing and enhances comfort between dives.
Compression-molded zipper flap/spine pad reduces water entry and increases back protection.
Tatex knee and shoulder pads offer protection against abrasion.
Seat area is also protected with an abrasion-resistant outside lining to increase durability and extend the life of the suit.
Extensive range of new sizes for both men and women means all divers can enjoy the perfect fit and the ultimate in comfort.
Available in 16 mens and 17 womens sizes. Click on men's size chart or women's size chart for more details.
X-FOAM Features
SCUBAPRO's Everflex is produced with X-Foam neoprene, an exclusive SCUBAPRO formula.
SCUBAPRO was the first in diving in 2012 to introduce X-FOAM blend neoprene as part of our ongoing effort to better protect divers and our environment. All SCUBAPRO neoprene is X-FOAM.


PETROLEUM FREE made from limestone neoprene.
ONLY FORMULA WHICH COMPLIES TO P.A.H. TESTS ensuring fewer pollutants.
LIGHTER WEIGHT for travel and comfort.
GREATER ELASTICITY increases comfort and mobility.
HIGHER INSULATION EFFICIENCY for better heat retention.
VERY DURABLE for years of diving adventures.
| | | |
| --- | --- | --- |
| Size | MPN | UPC |
| S | 63485200 | 4048336335027 |
| M | 63485300 | 4048336335058 |
| L | 63485400 | 4048336335089 |
| XL | 63485500 | 4048336335119 |
| 2XL | 63485600 | 4048336335140 |