SCUBAPRO Spectra Two Lens Mirrored Mask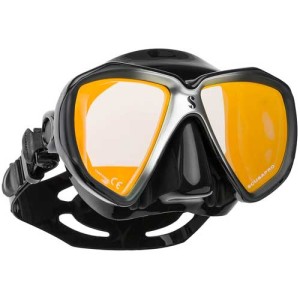 Contact Bluelize On Whatsapp
Please contact us on WhatsApp
+20 10000 65005 in case any inquiry.
SCUBAPRO Spectra Two Lens Mirrored Mask.
The SCUBAPRO Spectra Mirrored Mask is a mirrored version of the Spectra Mask. The twin lens design and metallic paint adds some style while the mirror coating protects your eyes from glare in the water and on the surface.

The SCUBAPRO Spectra Dual-Lens Dive Mask is stylish and dependable. It's designed to comfortably fit medium and large faces in a variety of shapes thanks to the water-blocking, high-quality silicone skirt. The skirt provides a secure seal so you can focus on the world around you. The low volume of this mask makes it easy to clear, especially with the EZ equalizer nose pocket.

The SCUBAPRO Spectra Mask tempered glass lenses are safe, durable, and built to last. They provide a large field of view to give a front row seat to the underwater scenery.

The buckles are attached to the mask skirt for a more natural strap angle and a more secure, comfy fit. Adjustable push buttons give you finely tuned control over mask tightness. When diving time's over, just fold this mask for easy storage. Dual lens with wide horizontal and vertical field of view Comfortable silicone skirt that's double sealed to keep water out Folds flat for convenient, compact storage EZ equalizer nose pocket makes equalizing a breeze Rotating buckles on the skirt and adjustable push-button buckles lock in the perfect fit Polycarbonate, High-Grade Silicone


SCUBAPRO Spectra Two Lens Mirrored Mask Features
Ultra-clear dual-lens design is low volume for easy clearing plus offers maximum field of view.
Lenses are made from tempered glass for safety and long-term durability.
Universal skirt design is super comfortable and fits a variety of face shapes.
Special nose pocket design makes easy work of equalising.
Push-button buckles that attach to the skirt adjust easily to achieve a perfect fit.
Mirrored lens option delivers a glare-free view and reduces reflections underwater world.
Bold frame colours include stylish duotones.
Note: Painted finish may be damaged if cleaned with abrasive products.