SCUBAPRO Synergy Mini Two Lens Mask with Comfort Strap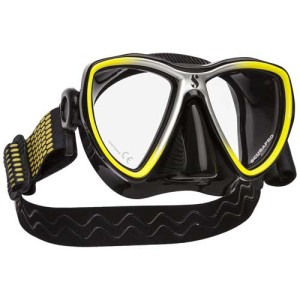 Contact Bluelize On Whatsapp
Please Text us on WhatsApp
+20 10000 65005 in case any inquiry.
SCUBAPRO Synergy Mini Two Lens Mask with Comfort Strap
The SCUBAPRO Synergy Mini is a downsized design of the Synergy Twin mask. It features a smaller frame and smaller skirt to accommodate smaller faces and to create a comfortable face fit for divers who have had issues getting the full-sized Synergy Twin to seal on their faces.
The SCUBAPRO Synergy Mini design approach features a mask skirt with thicker, firmer silicone near the mask frame to provide support and rigidity, and thinner silicone contouring to the face for comfort and to ensure a watertight seal. It's an effective combination that delivers a truly unique fit and seal. The dual lens design is low volume and offers a wide field of view, and the mask comes standard with a color-coordinated comfort strap.
The SCUBAPRO Synergy TruFit Mini Mask has all the other features you expect on a high-quality dive mask. The mask has a double feathered edge skirt and a wide style elastic mask strap that combine to create a perfect seal on the face. The dual tempered glass lens design allows for maximum underwater vision and the intake of light. Mask is equipped with an easy-to-reach one-hand nose pocket for ear equalization which can be utilized even when wearing thick gloves.
The Mask is equipped with easy to adjust swivel buckle system. Its low-profile low volume personality means clearing the mask is an effortless task. Because the TruFit mask has two lenses, you'll be able to clearly and easily see more of what surrounds you. The lenses of the mask are made from an ultra-clear glass. Standard glass has a green tint. The green tint you see is the result of iron impurities left over in lower quality float"" or window type glass. That green tint distorts true colors and blocks out some of the light that reaches the eye.
Ultra clear is a new and exciting optical quality tempered glass with exceptional clarity and high light transmission, with no color distortion. The exceptionally high light transmittance and lack of distortion in the ultra-clear lens maximizes the light available for improved visual acuity, especially underwater in low light conditions, Better vision, truer colors are what you get with SCUBAPRO 's Ultra-Clear lenses. The Synergy Mini Mask is available with a black and comes in multiple color options. The Mask comes with a protective mask box.
SCUBAPRO Synergy Mini Two Lens Mask with Comfort Strap Features
Downsized Version of Synergy Twin Mask
TruFit Ultra-Soft Skirt Technically-Developed to Fit Any-and-Every Face Shape
Unique-Rigidity Allows Perfect Seal and Comfort
An Excellent Mask is Essential to Premium Diving Adventures
Try a TruFit Mask, and Feel-the-Difference
Feel-One with your Environment, One-with-your-Element: Water
Two-Different Thicknesses:

Thicker-&-Firmer, w/Matt-Finish Near Mask Frame; Provides Needed Support & Rigidity
Silicone Contouring Face is Thinner Giving Softer-Feeling, for Truly-Unique Fit & Seal

New Generation TruFit Skirt:

High Quality Silicone Skirt
Total-Comfort and Sophisticated Simplicity
Unique Ribbing Texture

Tested-by-Demanding Divers: Improved-Upon Before-Ever Hitting-the-Market
Double Feathered Edge Silicone Skirt
Wide Elastic Style Strap
Feathered Edge and Strap Combined for Perfect Seal on Face
Dual Tempered Glass Lens Design
Maximum Underwater Vision and Intake of Light
Ultra Clear Glass Lenses:

Standard Glass has Green Tint from Iron Impurities
Green Tint Distorts True Colors & Blocks-Out Light Reaching Eye
Ultra-Clear; Optical Quality Tempered Glass, Exceptional Clarity & High Light Transmission
No Color Distortion
Maximizes Light Available for Improved Visual Acuity

Better Vision, Truer Colors
Easy to Adjust Swivel Buckle System
Easy-to-Reach One-Hand Nose Pocket for Ear Equalization
Protective Mask Box