TUSA Imprex II Hyperdry Snorkel SP-580
Contact Bluelize On Whatsapp
Please Text us on WhatsApp
+20 10000 65005 in case any inquiry.
TUSA Imprex II Hyperdry Snorkle sp-580.
The SP-580Q Imprex II Hyperdry snorkel has a special internal purge channel located below the mouthpiece. It channels exhaled air out the top of the snorkel while excess water drains through the bottom purge valve.


TUSA Imprex II Hyperdry Snorkle Features
Hyperdry System.
Large capacity drain chamber and oval purge valve with internal purge channel.
Ortho-consciously designed mouthpiece for ultimate comfort.
Silicone flexible neck.
Colors : Black (BK), Cobalt Blue (CBL), Flash Yellow (FY), Translucent (T).
MSRP $38.00.
Black Silicone: Black/Black (QB-BK).
Model Number : SP-580
TECHNOLOGY.





HIGH FLOW PURGE.

The High Flow Purge design used on TUSA snorkels offers a covered large diameter purge valve for simple, quick clearing, reducing the amount of water remaining in the mouthpiece in an instant.



The periphery of the valve always remains at the lowest point even when snorkeling upright at the water surface, so water is easily cleared at all times. It prevents gurgling or sucking water when breathing.

HYPERDRY SYSTEM.

The Hyperdry System keeps the main pipe dry by ejecting water through an independent escape pipe. This unique design utilizes the angle of the snorkel pipe and the resilience of the water surface to eject water.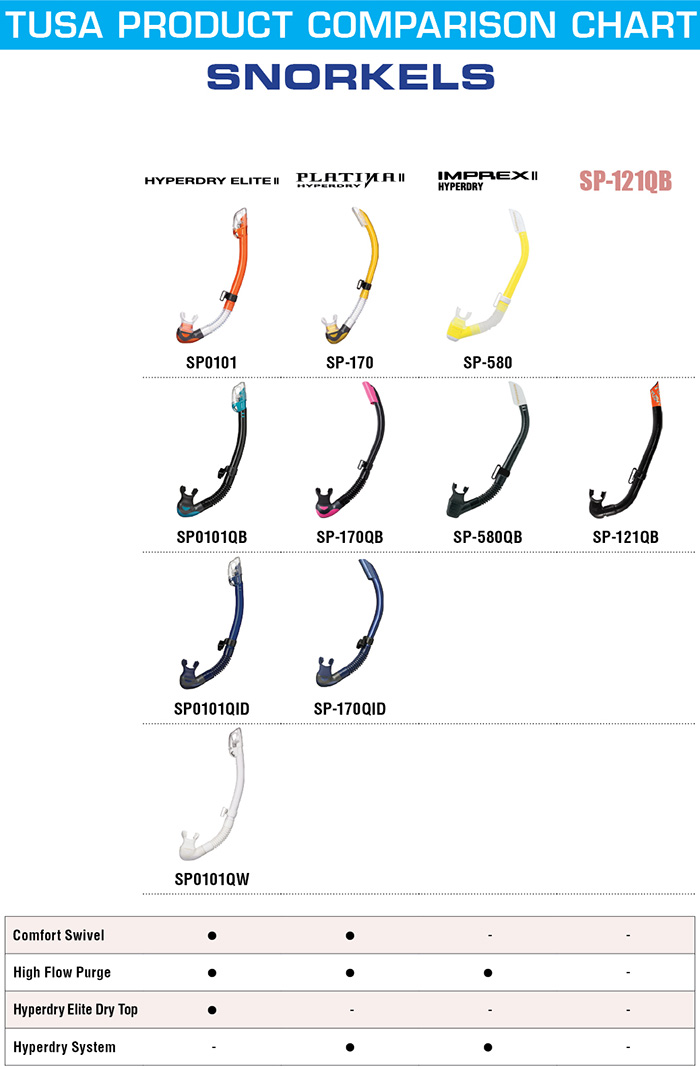 Views: 2787
Brand: TUSA
Product Code:

Imprex II Hyperdry

Availability:

In Stock
Tags: TUSA, Snorkel, Dry, Flexible