CRESSI Ultraspan 2.5mm Spearfishing Camoflage Gloves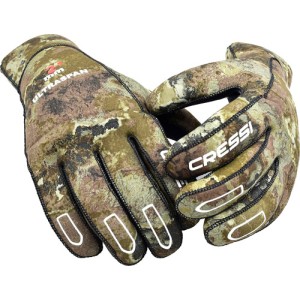 Contact Bluelize On Whatsapp
Please Text us on WhatsApp
+20 10000 65005 in case any inquiry.
CRESSI Ultraspan 2.5mm Spearfishing Camoflage Gloves
The CRESSI Ultraspan are 5 fingers gloves made with premium quality Ultraspan Neoprene. This fabric provides high elasticity and comfort giving the possibility to use the complete movements of the fingers. The thickness is 2.5 mm to ensure warmth at the hands. Particularly suitable for diving in cold water, giving them their high thermal power. The fingers feature anti-slip dots to give a secure grip. For this model, important details have been studied, such as the depth of the fingers, perfect closing of the wrist area, not through the stitching. Seams made for long-lasting use. The design is a special CRESSI's Camouflage effect cover pattern, the mimetic outline in which are available wetsuits and socks. Suitable for scuba diving and spearfishing.
The Ultraspan gloves are designed in Italy by CRESSI and made in Cambodia.
Views: 2067
Brand: CRESSI
Product Code:

Ultraspan Camo

Availability:

In Stock