CRESSI Big Eyes Evolution - Alpha Ultra Dry Combo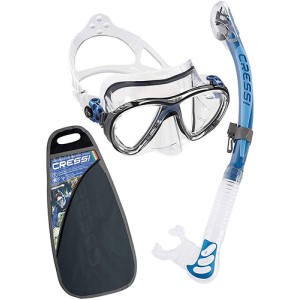 Contact Bluelize On Whatsapp
Please Text us on WhatsApp
+20 10000 65005 in case any inquiry.
CRESSI Big Eyes Evolution - Alpha Ultra Dry.
Big Eyes Evolution mask with Alpha Ultra Dry snorkel package.


CRESSI Big Eyes Evolution Two Lens Mask.
CRESSI Big Eyes Evolution Adult Patented Inclined Inverted Teardrops Lens Mask

This revolutionary mask is made from High Seal, a new material that offers extraordinary and unprecedented comfort.
Not only has this new High Seal silicone been chosen, with its exceptional softness and comfort, but the entire design of the skirt has followed new rules which allow a point of contact between the mask and the face that has a very open angle.
The mask rests on the face with unprecedented comfort and does not leave any marks on the skin, even after extended use.
Naturally, to obtain such a result the entire structure of the skirt is differentiated, with internal ribs that stiffen the parts of the mask that are most stressed.
The raked lenses, with their inverted drop shape (CRESSI patent), are quite small and are brought as close to the pupils as possible, so that the already extraordinary visibility of the Matrix is increased by 25%.
The headband uses the exclusive patented CRESSI system of double injection of an elastomer on a rigid element and allows the buckles of the strap to be mounted not on the skirt structure, as done by our competitors, but on an indestructible elastic element that tilts on a vertical plane and can be completely bent sideways on a 180° curve.
The thickness of the headband has been reduced to such an extent as to make it practically invisible when the mask is being worn.
Big Eyes Evolution has been created to take prescription lenses.
The Big Eyes Evolution packaging can be completely recycled and the lower black part has been made from recycled material: CRESSI also cares for the environment!


CRESSI Big Eyes Evolution Two Lens Mask Features
Skirt in High Seal silicone.
Special structure of the skirt has differentiated rigidity.
Very narrow headband in three materials, invisible when the mask is worn.
Instantly adjustable buckles that are joined to the headband with an indestructible elastic element.
Downward visibility is increased by 25% compared to the Matrix.
Minimum internal volume.
Also available in an optical version.
Dimensions of frame: 163 x 89 mm.
Weight: 200 g.
U.S. PAT 6272693 B1.
Made In Italy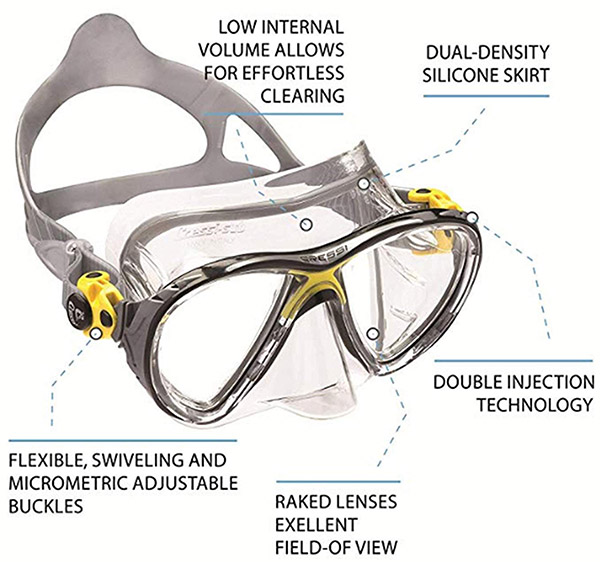 CRESSI Alpha Ultra Dry Snorkel.

CRESSI Foldable Adult Alpha Ultra Dry Snorkel for Scuba Diving and Snorkeling.

The CRESSI Alpha Ultra Dry snorkel allows users to take every breath with confidence and focus on the reef below.
The Alpha Ultra Dry Snorkel's profiled 360° dry top automatically closes when submerged not allowing water entry regardless of the angle of the snorkel when you surface dive.
The high-quality removable and replaceable silicone mouthpiece is comfortable and durable.



CRESSI Alpha Ultra Dry Snorkel Features
Features a float mechanism which closes instantly to prevent water from entering the snorkel whether accidentally or purposely submerged.
Flexible lower bore reduces jaw fatigue.
Mouthpiece drops away when not in use--great for scuba divers.
High-quality silicone mouthpiece is comfortable and durable.
Lower purge valve allows water to be quickly expelled.
Angled mouthpiece reduces jaw fatigue.
Streamlined design reduces drag while swimming.
Adjustable clip for securing to any mask.
Made in Italy.