CRESSI Estrella Junior VIP Combo Set (7-13 Years) Estrella Mask & Top Snorkel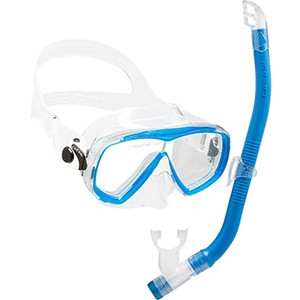 Contact Bluelize On Whatsapp
Please Text us on WhatsApp
+20 10000 65005 in case any inquiry.
CRESSI Estrella Junior VIP Combo Set (7-13 Years) Estrella Mask & Top Snorkel.
The Estrella Mask Jr. is a mask suitable for small and medium faces. This mask has a one lens tempered glass lens to ensure a wide view, designed for snorkeling and swimming. The polycarbonate frame provide minimum thickness and weight. The skirt is made from soft hypoallergenic transparent silicone, an ideal material that is soft on the skin and ensures a perfect seal. The mask features an easy-to-reach one-hand nose pocket for ear equalization. The buckles system allows to easily adjust the length of the mask strap. Mask has a double feathered edge skirt and wide split strap design that work in concert to provide a good seal on the face.

The Top Snorkel is transparent tube is made from flexible material. The quick-release, techno-polymer snorkel keeper system allows height adjustment for comfort. The top semi-dry splash guard in the top to prevent water from entering the tube. The angled silicone mouthpiece is designed for extreme comfort.

Mask and snorkel combo are available in multiple color choices.



CRESSI Estrella Junior VIP Combo Set (7-13 Years) Estrella Mask & Top Snorkel Features
Mask & Snorkel Package for Youngsters and Narrow Faced Persons
Cressi Estrella Mask JR : Designed for Smaller Faces, Women and Children
Great for Snorkeling & Swimming
Soft Hypoallergenic Transparent Silicone Skirt
Ideal Material: Soft On-the-Skin & Ensures a Perfect Seal
Lightweight and Compact Design
Double Feathered Edged Skirt for Comfort & Fit
Wide Field of View
Tempered Glass Lens
Easy-to-Reach One-Hand Nose Pocket for Ear Equalization
Efficient Adjusting Buckle System
Wide Silicone Split Mask Strap
Cressi Top Jr. Snorkel : Angled 100% High-Quality Silicone Mouthpiece
Mouthpiece Angle Provides Extreme Comfort
Transparent, Flexible Tube Material
Quick-Release, Techno-Polymer Snorkel Keeper System
Semi-Dry Splash-Guard Prevent Water from Entering the Tube
Splash-Guard Keeps Out Wind Chop and Spray
Large Internal Elliptical Purge Valve
Purge Valve for Improved Drainage of Residual Water
Code : DM3500.
Made In Italy