CRESSI Marea Dry (Marea - Alpha Ultra Dry) Combo Set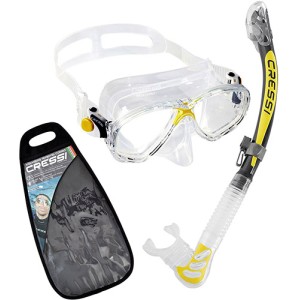 Contact Bluelize On Whatsapp
Please Text us on WhatsApp
+20 10000 65005 in case any inquiry.
CRESSI Marea Dry (Marea - Alpha Ultra Dry) Combo Set.
The Marea & Alpha Ultra Dry is a combination of the best Cressi's products for snorkeling. Both mask and snorkel are made in Italy with premium quality material for assure a long lasting use. The Marea is made in 100% silicone to assure comfort and perfect seal. It is a mask usable not only for snorkeling but also for scuba thanks to the small inner volume and to the soft nose pocket for compensate the air pressure. The Alpha Ultra Dry is a jewel of Cressi's technology and design. It features a complete dry top to avoid entering of water. The mouthpiece has a little tank with a purge valve which allows instant clearing of water when needed. The flexible tube reduces the jaw fatigue and can be folded compactly for storing.

CRESSI Marea Two Lens Mask.
Evolution of the legendary Focus model, the most versatile and one of the most successful CRESSI masks. The frame design is minimized in thickness and the lenses are slightly angled to improve vertical and horizontal visibility. Buckles with flexible anchorage 100% pivoting in all directions thanks to its flexible anchorage and with micro adjustment by button, with one hand. They avoid the usual breakages in this delicate point and maintain the stability of the mask once positioned and with the strap pulled. 100% multi-purpose mask suitable for apnea, snorkeling and diving. Very resistant also for use in diving centers or intensive use. Also available in a smaller version (Marea Junior) with the same technical characteristics, but adapting the sizes for children and / or smaller faces.
CRESSI Marea Two Lens Mask Features
Type: double-lenses mask.
Internal volume: 130cm3 (junior 80cm3)
Weight: 165 g (junior 120 g).
Clear silicone or dark silicone strap and skirt.
360º adjustable pivoting buckles, perfect also for diving centers usage or intensive use.
Skirt with adaptable percentage of more than 85%.
Dimensions: 15 x 18 x 9.1 cm
Weight: 159 g
Model Code: BLACK-DN285050 / CLEAR-YELLOW-DN281010 / CLEAR-BLUE-DN281020

CRESSI Alpha Ultra Dry Snorkel.

DRY MOUTHPIECE WITH STRAIGHT HOSE.

The CRESSI Alpha Ultra Dry snorkel allows users to take every breath with confidence and focus on the reef below.
The Alpha Ultra Dry Snorkel's profiled 360° dry top automatically closes when submerged not allowing water entry regardless of the angle of the snorkel when you surface dive. A special patented "Aquastop" valve at the top that keeps water out, making breathing easier and more natural.
The tube has an expanded elliptical shape in order to increase comfort and air-delivery capacity.
The high-quality removable and replaceable silicone mouthpiece is comfortable and durable.


CRESSI Alpha Ultra Dry Snorkel Features
Features a float mechanism which closes instantly to prevent water from entering the snorkel whether accidentally or purposely submerged.
Flexible lower bore reduces jaw fatigue.
Mouthpiece drops away when not in use--great for scuba divers.
High-quality silicone mouthpiece is comfortable and durable.
Lower purge valve allows water to be quickly expelled.
Angled mouthpiece reduces jaw fatigue.
Streamlined design reduces drag while swimming.
Adjustable clip for securing to any mask.
Made in Italy.