CRESSI Calibro Two Lens Mask
Contact Bluelize On Whatsapp
Please Text us on WhatsApp
+20 10000 65005 in case any inquiry.
CRESSI Calibro Two Lens Mask.
BUILT WITH THE NEW IDF TECHNOLOGY INTEGRATED DUAL FRAME

Fog Stop Technology.

Evolution of the Nano Mask with the same IDF-INTEGRATED DUAL FRAME TECHNOLOGY system known in the latest CRESSI masks to provide a visual field beyond the standard.
The structure of the mask is characterized by a special design that integrates facial and frame in an extremely compact and hydrodynamic profile very close to the diver's face allowing a particular and wider lens shape.
The caliber is therefore the CRESSI mask with lower internal volume and an exceptional visual field thanks to the inclination of the lenses.
The buckles are always attached directly to the rigid rim of the mask through a robust but flexible rubber hub.
This allows you to adjust the strap and position the mouthpiece without altering the delicate facial position.
The finish is completely satin matte to match aesthetically all its components in order to favor perfect integration into the underwater environment by avoiding alarming reflections for marine organisms.
Caliber is a perfect choice for apnea as it is designed to offer the best response to the feeling of freedom of the face.



CRESSI Calibro Two Lens Mask Features
Fog Stop Technology.
Ultra low volume.
Integrated dual frame.
Tempered glass.
Micrometric adjustable buckle.
An innovative anti-fog system has been used on this mask for the first time in the world and it is a CRESSI patent.
Color: Black/Black - MFR: DS425050 - UPC: 843607570084 - EAN: 8022983077123
Color: Green/Green - MFR: DS429850 - UPC: 843607570107 - EAN: 8022983077147
Weight: 125 g.
U.S. PAT 6272693 B1.
Made In Italy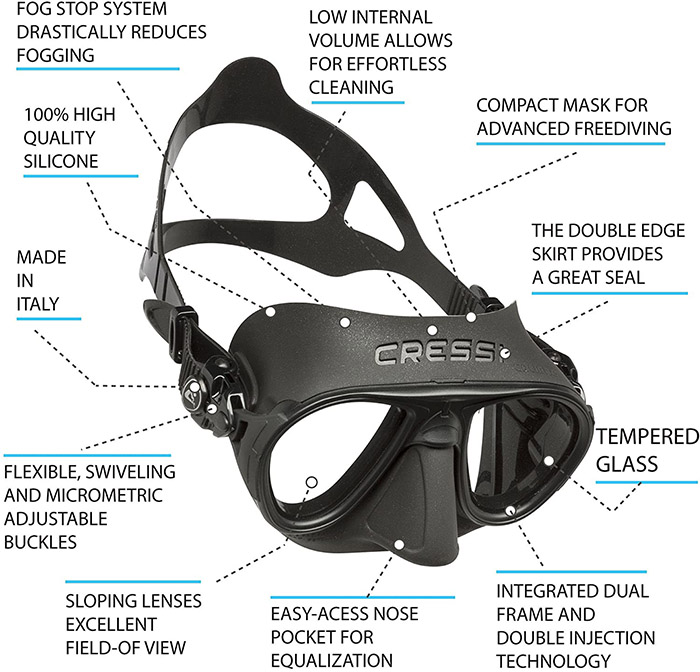 Views: 1452
Brand: CRESSI
Product Code:

Calibro

Availability:

In Stock