CRESSI Gamma Semi Dry Snorkel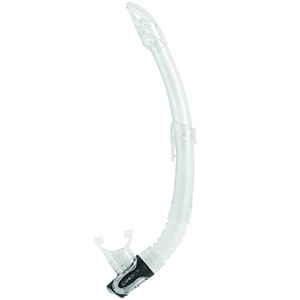 Contact Bluelize On Whatsapp
Please Text us on WhatsApp
+20 10000 65005 in case any inquiry.
CRESSI Gamma Semi Dry Snorkel.

ADULT SIZE

High range tube especially studied for getting the perfect anatomy with regard to divers with a progressive completely round profile.
Superior deflector that reduces accidental water entrance due to the waves, with design studied to avoid damaging the air entrance.
It's a very flexible transparent polyurethane tube with a mixed texture matte-brilliant. The tube's walls section has been studied to maintain the needed rigidity on the mask strap's pressure area to avoid damaging the air flow on this area.
Auto-orientation silicone windpipe with plain interior to avoid damaging the water flow.
Really comfortable nozzle that combines three different thicknesses to favor its auto orientation and free from tensions the user's jaw.
Side discharge bucket and discharge valve with silicone elliptical diaphragm protected to avoid sand entrance.
The assembly nozzle / tube is particularly safe before a possible accidental separation.
It's polyvalent so it can be used both on the left and on the right sides of the face.
A clamp is hold to a transparent tube of easy insertion and it's really safe.
Available colors: Clear-yellow, Clear-blue, Clear-pink, Clear-lilac, Clear-Clear, Clear-turquoise, Dark-black.




CRESSI Gamma Semi Dry Snorkel Features
Profile Splash Guard.
Semi-Dry Design.
Keeps Out Water from Wind and Waves.
Easy Adjust Snorkel Keeper Attachment.
Drainage Well for Dryer Breathing.
Elliptical One-Way Purge Valve.
High-Quality 100% Removable and Angled Silicone Mouthpiece.
Lower Corrugated Section.
Mouthpiece and Corrugated Tube Reduces Jaw Fatigue.
Corrugated Section Drops-Away from Diver's Mouth when Switching from Snorkel to Scuba Regulator.
Made in Italy.