CRESSI Liberty One Lens Mask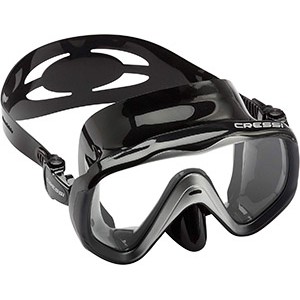 Contact Bluelize On Whatsapp
Please Text us on WhatsApp
+20 10000 65005 in case any inquiry.
CRESSI Liberty One Lens Mask.
The CRESSI Liberty one lens mask gives the diver a wide unobstructed field of vision while snorkeling or when doing scuba diving. Features one large lens for offers to divers a phenomenal field of vision. The lens is made in tempered glass for safety.
The skirt is made in hypoallergenic soft silicone, anatomically designed, for ensure a perfect seal.
Mask is equipped with easy-to-use buckles for immediate length strap adjustment.
Mask has an easy-to-reach one-hand nose pocket for ear equalization which can be utilized even when wearing thick gloves. The double feathered edge silicone skirt works in concert with the split strap for an excellent seal on the face.
The exclusive painted, coated frame brings a cool tech design style.


SPRAY PAINTED EFFECT (SPE)
This airbrush technique blends two colors in a gradation design around the mask frame. The effect is a truly unique and visually stunning matte color incorporated with a top-ofthe-line dive mask.

CRESSI Liberty One Lens Mask Features
A wide unobstructed field of vision thanks to the one large lens.
Lens made in in tempered glass.
Skirt made in hypoallergenic soft silicone and has anatomically designed.
Easy-to-use buckles for immediate length strap adjustment.
Easy-to-reach one-hand nose pocket for ear equalization.
The exclusive painted, coated frame brings a cool tech design style.
U.S. PAT 6272693 B1.
Made In Italy