CRESSI Reaction Open Heel Fins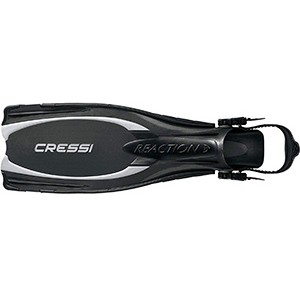 Contact Bluelize On Whatsapp
Please contact us on WhatsApp
+20 10000 65005 in case any inquiry.
CRESSI Reaction Open Heel Fins.
CRESSI's most technically advanced fin, the Reaction uses a completely new polypropylene blade material that is more reactive, flexible and trim than previous designs.It kicks easily yet powerfully and is suitable for divers of every experience level.
The longer blade efficiently transfers energy from the computer-designed foot pocket, and like other CRESSI fins, the blade extends from the top of the foot pocket to maximize its effective surface area for more thrust. Other innovations include new locking strap buckles and anti-slip material for better traction out of the water.



CRESSI Reaction Open Heel Fins Features
Open heel foot pocket fins with rubber strap for scuba diving.
The Reaction uses the exclusive CRESSI (patented) molding technology in three materials, ensuring unmatched performance.
Polypropylene blade really reactive, flexible that start directly from the back of the foot pocket.
The lightweight blade develop a remarkable propulsion with minimal muscular fatigue, enabling to safety face even in a critical underwater situation.
The rubber strap is easy to put on and ensure a comfortable fastening for the foot.
Computer-designed foot pocket made with anti-slip material.
Foot Pocket Material : Thermo-Rubber Elastomer.
Blade Material : Techno-Polymer Polypropylene.
Channels Material : Silicone Based Material.
Blade Dimensions: (L x W) 58.4 cm to 70.1 cm
Weight : 0.75 kg to 1.15 kg