CRESSI Sirena One Lens Mask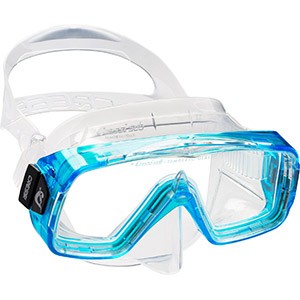 Contact Bluelize On Whatsapp
Please Text us on WhatsApp
+20 10000 65005 in case any inquiry.
CRESSI Sirena One Lens Mask.
Adult Size Low Volume Single Lens Dive Mask Suitable for Freediving & Snorkeling

The CRESSI Sirena one lens mask is particularly appropriate for free diving, snorkeling and scuba diving.
This Sirena has a single tempered glass lens.
The skirt is made from soft hypoallergenic transparent or black silicone.
The Sirena is a low volume mask, which sits closer to the eyes to increase the masks visibility field of view underwater, and easy to clear from water.
The mask has a wide split strap to provide even pressure for excellent seal on the face with strong rapid action buckles to adjust the strap quick and easily.
The Sirena mask has an easy-to-reach one-hand nose pocket for easy ear equalization even when wearing a thick glove.



CRESSI Sirena One Lens Mask Features
This mask has a single lens, and is designed for snorkeling, swimming and scuba diving.
The skirt is made from soft hypoallergenic black silicone.
The visibility provided by the single lens and the unusual shape of the frame extends in all directions.
Excellent seal on many face types, average internal volume.
Quick-release strap buckles.
Code : DN202000.
Made In Italy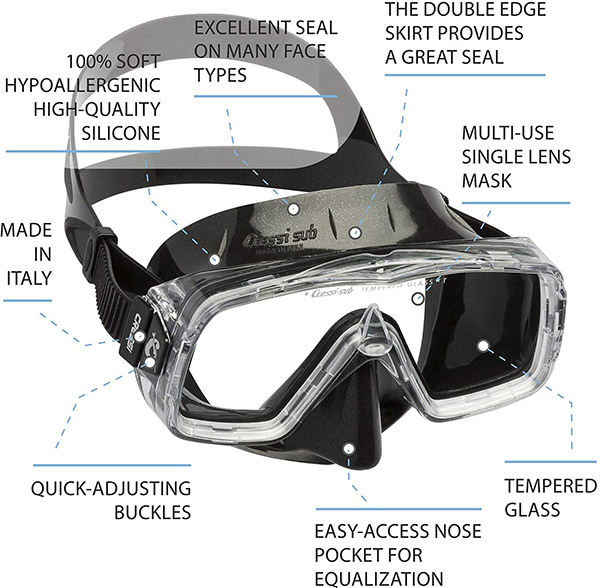 Views: 1360
Brand: CRESSI
Product Code:

Sirena

Availability:

In Stock