CRESSI Tao Semi Dry Snorkel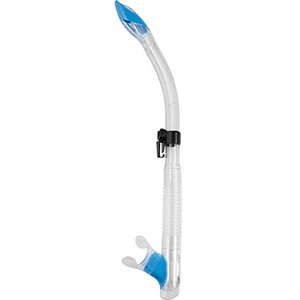 Contact Bluelize On Whatsapp
Please Text us on WhatsApp
+20 10000 65005 in case any inquiry.
CRESSI Tao Semi Dry Snorkel.

CRESSI Tao Adult Semi-Dry Snorkel for Scuba Diving, Snorkeling, and Freediving - Quick-Release Snorkel Keeper, Purge Valve.

The Tao is a semi-dry snorkel that allows divers to take every breath with confidence and focus on the reef below not on worrying about water in your air way.
The top Splash Guard is designed to reduce water intake. A generous bore contoured tube provides ample airflow and a lower purge valve enables instant clearing when needed.
The mouthpiece is made in soft silicone to ensure comfort.


CRESSI Tao Semi Dry Snorkel Features
The Cressi Tao is the ideal semi-dry snorkel to enjoy scuba diving and snorkeling.
Profiled splash guard significantly reduces water entry.
Flexible lower bore reduces jaw fatigue.
High-quality silicone mouthpiece is comfortable and durable.
Angled mouthpiece reduces jaw fatigue.
Lower purge valve allows water to be quickly expelled.
Removable adjustable snorkel keeper for securing to any mask.
The Tao is designed in Italy by Cressi and made in Taiwan.
Views: 4583
Brand: CRESSI
Product Code:

Tao

Availability:

In Stock
Tags: CRESSI, Snorkel, Semi Dry, Flexible