SCUBAPRO Hooded Vest 3mm Unisex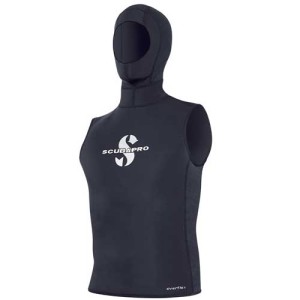 Contact Bluelize On Whatsapp
Please Text us on WhatsApp
+20 10000 65005 in case any inquiry.
SCUBAPRO Hooded Vest 2.5mm Unisex.
AN ADDITIONAL THERMAL LAYER MEANS MORE WARMTH AND COMFORT
Here's the perfect solution for those days when a little extra thermal protection is called for.

This SCUBAPRO classic Hooded Vest is Made from 100% Everflex neoprene for superior stretch and comfort.
SCUBAPRO offers this thinner, lighter as additional layer of neoprene covering the torso protects the body's core thermal area, and the attached hood is effective at sealing off the head, which can be flexible, comfortable and responsible for much heat loss. Designed to layer with any SCUBAPRO steamer, the Hooded Vest features graphics on the side panels for that modern look.
Available in a choice of 5mm or 2.5mm thicknesses, either one makes the ideal thermal under layer for any SCUBAPRO steamer.


SCUBAPRO Hooded Vest 2.5mm Unisex Features
Provides extra warmth over the torso and head, two critical areas for minimizing heat loss.
Everflex neoprene is super-stretchy so it's easy to don and doff.
Fast-drying, the vest remains comfortable for use and reuse during a long dive day.
Light graphic print on side panels enhances styling.
Available in 5mm and 2.5mm thickness in 9 unisex sizes.
X-FOAM
SCUBAPRO's Everflex is produced with X-Foam neoprene, an exclusive SCUBAPRO formula.
SCUBAPRO was the first in diving in 2012 to introduce X-FOAM blend neoprene as part of our ongoing effort to better protect divers and our environment. All SCUBAPRO neoprene is X-FOAM.


PETROLEUM FREE made from limestone neoprene.
ONLY FORMULA WHICH COMPLIES TO P.A.H. TESTS ensuring fewer pollutants.
LIGHTER WEIGHT for travel and comfort.
GREATER ELASTICITY increases comfort and mobility.
HIGHER INSULATION EFFICIENCY for better heat retention.
VERY DURABLE for years of diving adventures.