SCUBAPRO Nova 850 Diving Light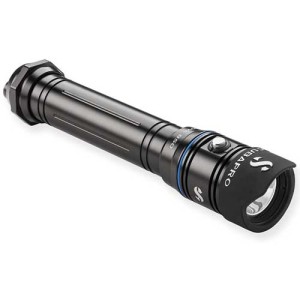 Contact Bluelize On Whatsapp
Please Text us on WhatsApp
+20 10000 65005 in case any inquiry.
SCUBAPRO Nova 850 Diving Light
The SCUBAPRO Nova 850 diving light delivers intense illumination, ideal for lighting up the dark spaces and bringing out the vibrant colours on night dives as well as day dives. It is machined from heavy-duty aluminium with a rugged matte black finish so is both lightweight and built to last. It is also easy to use. A 50% mode allows you to increase burn time if you do not need the full power. For divers looking to brighten their dives, the Nova 850 is the perfect choice. The Nova 850 is powered by 3 C cell disposable or rechargeable batteries (not included).
SCUBAPRO Nova 850 Diving Light Features
Equipped with a Cree XPL LED, the light offers 850 lumens illumination, 17,000 lux @1m, with an extended light head shroud to keep from blinding other divers.
SCUBAPRO's machined-aluminium body features a rugged matte Black finish with blue accents, providing lightweight long-term durability and a high-quality look.
Double O-ring seals ensure watertight integrity.
Powered by three C-Cell batteries (not included), The light offers a battery life of up to 7 hours on full power or longer when used on 50% mode.
Push-button switch on the end of the light is easy to activate, even when wearing gloves. A special Safety Lock mode prevents accidental activation.
An over-pressure valve releases off-gassing, a safety feature not normally found on dive lights in this class.
Driven to constantly innovate and improve the diving experience, Scuba builds high-quality equipment for the work, sport, and lifestyle of people whose passion is found below the surface.
Measurements: 9.0x1.7in /230x43mm. Weight (w/batteries): 17.9oz /510g.
CCT (correlated colour temperature): 4200ºK.
Beam angle: 8º.
A depth rating of 492ft/150m ensures worry-free lighting in virtually all diving conditions.
Includes a lanyard and EVA carry case with foam insert.