SCUBAPRO Nova Scotia 7.5mm Semi-Dry Man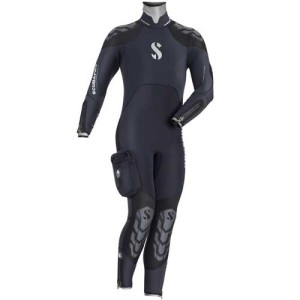 Contact Bluelize On Whatsapp
Please Text us on WhatsApp
+20 10000 65005 in case any inquiry.
SCUBAPRO Nova Scotia 7.5mm Semi-Dry Man.
The Nova Scotia 7.5mm semi-dry offers more thermal protection than any wetsuit on the market, will keep you warm in the coldest waters without resorting to a dry suit.

It was certified a CE certification as a Class A dive suit; this is the highest CE rating for a suit of this type can earn. CE Certified Class A Thermal Protection Suit made from water repellent everflex neoprene which is thick and insulating and offering the flexible and comfortable in the same time. The neoprene is made from SCUBAPRO's X-Foam which complies to P.A.H. test requirements; produced an environmentally friendly and quality neoprene.This paired with SCUBAPRO's Diamond Span lining which is a quick drying but very insulating interior lining.

Easy-zip YKK Aquaseal Vislon dry zipper and placed in the back provides an excellent dry seal against cold water entry and is more flexible, increasing wearing comfort, the NovaScotia is the diver's answer to a comfortable, affordable semi-dry suit. Double zipper ankle seals make putting on and taking off easy and also maintaining a tight effective seal.

Fewer Seams from the Pure Design Concept increases comfort, more flexibility and thermal integrity. An improved protective spine pad adds insulation and protects your spine from harder backplates. Anti-Abrasion Powertex material on shoulders and back stop shoulder straps from slipping and wearing out the shoulder areas.

I-Safe Computer Strap keeps your dive computer in place without slipping off or twisting around on either wrist even when the neoprene compresses at depth. 3D thigh pocket for tools and essentials with an attachement hook for lanyards. Tough knee pads to protect the common wear areas on the knees and shins. 6mm Hood included.


SCUBAPRO Nova Scotia 7.5mm Semi-Dry Man Features
100% Everflex neoprene is an X-Foam formulation for better health.
1st industry semi-dry suit built with WATER BASE GLUE, a 100% solvent-free glue.
Pure Design Concept uses fewer seams and panels for maximum flexibility.
Diamond Span water draining interior insulates almost the entire suit.
Second plush lining promotes comfort in motion as well as enhances warmth.
Metal YKK Aquaseal dry main zipper is flexible yet provides an excellent seal against water entry.
Ankles and wrists feature double seal zippered closures.
I-Safe straps on both arms offer non-slip mounting spots for securing wrist instruments.
Improved protective spine pad increases comfort during extended dives.
Powertex material on shoulders, back, seat and knees delivers extra protection where it is needed most.
Right thigh 3D pocket with hood attachment hook offers lots of room for carrying extra gear.
Composition: 90% neoprene, 10% nylon.