SCUBAPRO X-Black BCD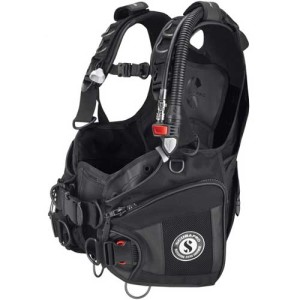 Contact Bluelize On Whatsapp
Please contact us on WhatsApp
+20 10000 65005 in case any inquiry.
SCUBAPRO X-Black BCD.
The SCUBAPRO X-Black is Loaded with convenience and performance features, durable yet comfortable BCD that features a new Balanced Power Inflator (BPI) exclusive AirFlex system (highlighted by the red bungees threaded throughout the BC) and elbow design, rigid backed integrated weight pockets, redesigned dump valves and a new bladder system.
Fully Padded Backpad and harness system which, combined with an ergonomic cut, provides an excellent level of comfort whilst diving. The bladder uses SCUBAPRO's AirFlex system that controls the bladder behaviour, allowing it to expand for increased buoyancy but also provide a more responsive deflation.
The Integrated Weight Pockets have been improved with a plastic backing to make them more rigid when filled. This makes it easier to insert and remove the quick release pockets from their slot. The pockets are fixed into position with a quick release buckle for maximum security and ease of use in an emergency.
Dump Valves are now more responsive then ever thanks to a redesign that increases the diameter of the opening within the valve, allowing more precise control and reaction from the valve. Air can be dumped from the rear kidney dump, right shoulder dump or by pulling down on the inflator assembly to activate the left shoulder dump and also by using inflator itself.
Balanced Power Inflator has an improved ergonomic design, gradual inflation mechanism with particular attention to the location of the inflator button to make it easier to find without visual aid.
Numerous Metal D-Rings (pre-bent and standard) for secure attachment of accessories, adjustable and quick release buckle harness with improved shoulder strap position for better stability, octo pockets, side pockets and rear trim pockets.


SCUBAPRO X-Black BCD Features.
Constructed of a combination of durable 1000 denier and 420 denier nylon for longterm wear.
Adjustable cummerbund compensates for suit compression, ensuring a snug fit at varying depths.
Rotating quick-release shoulder buckles optimize strap routing to maximize fit.
Airnet backpack is water-draining and comfortable during long dives.
AirFlex system with special bladder delivers enormous buoyant lift capacity.
Super Cinch tank buckle system locks the tank in solid for maximum stability at depth.
Quick-release integrated weight pouches ditch quickly and easily and secure with buckles.
Two rear trim pouches allow you to achieve a well-balanced swimming position.
Built-in grommets provide attachment points for a knife.
Two large zippered pockets and a zippered cummerbund pouch provide lots of cargo-carrying capability.
Seven aluminum D-rings, four large and pre-bent, provide convenient clip-on points for additional gear.