CRESSI Gara 3000 LD Long Freediving Full Foot Fins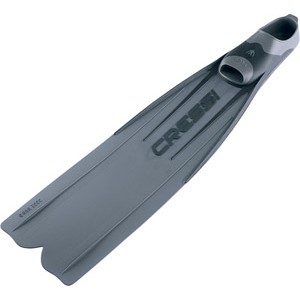 Contact Bluelize On Whatsapp
Please contact us on WhatsApp
+20 10000 65005 in case any inquiry.
CRESSI Gara 3000 LD Long Freediving Full Foot Fins.
The structure of the Gara 3000 LD is identical to the greatly-appreciated Gara 3000, but the material of the blade, which is softer, is what makes them stand out.
The LD in the 3000 LD stands for Long Distance, indicating the main use of the product, and these fins have emerged from the need to offer enthusiasts increasingly powerful fins, which are however less demanding than the Gara 3000 fins.
Less muscle effort is required for kicking so divers can use them for longer, making them perfect to use many hours in a row.
The softer blade is also very suitable for use in cold water, which is notorious for its tendency to stiffen materials and make them less flexible.
The Gara 3000 LD is an Excellent Choice for the Experienced Free Divers. Its unique Performance Characteristics feature a more Flexible, Lightweight design with a Custom Fitting Foot Pocket. The Gara 3000 LD is also suitable for the Entry-Level Diver, allowing the diver to develop the stamina and later using a stiffer blade fin once they develop their leg muscles.
The Fin has a Long Soft Plastic Blade and a Soft Elastomer Foot Pocket that Anatomically Wraps around the Foot, surrounding it with a Comfortable Bite that guarantees perfect Transmission of the Leg-Fin Thrust. Fins are Durably Constructed and designed to take Abuse.



CRESSI Gara 3000 LD Long Freediving Full Foot Fins Features
Designed for Free Divers
Long Flexible Plastic Blade Material
Easier to Kick for Longer Use
Versatile Fin for Spear Fishing, Free and Scuba Diving
LD Stands for Long Distance
Increasingly Powerful Fins, with Less-Demand
Less Muscle-Effort is Required for Kicking
Leg Fatigue Reduced
Softer-Blade Great in Cold Water
Cold Water is Notorious for Stiffening Fin Materials
Excellent Choice for the Experienced Free Divers or for Entry-Level Diver
Allows New Divers to Develop Stamina, Later using Stiffer Blade Once they Develop Leg Muscles
Flexible, Lightweight Design with Custom Fitting Foot Pocket
Soft Elastomer Foot Pocket that Anatomically Wraps Around the Foot
Guarantees Perfect Transmission of Leg-Fin Thrust
Durably Constructed and Designed to take Abuse
Sizes: US (EUR) 7/8 (40/41), 8/9 (42/43), 10/11 (44/45) or 12/13 (46/47)
Color: Grey