CRESSI Gara Modular Long Freediving Full Foot Fins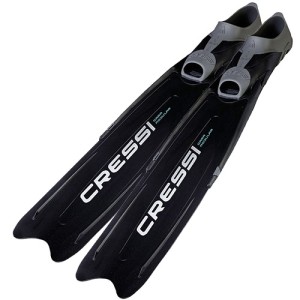 Contact Bluelize On Whatsapp
Please Text us on WhatsApp
+20 10000 65005 in case any inquiry.
CRESSI Gara Modular Long Freediving Full Foot Fins.
CRESSI was the first manufacturer to use the thermoplastic rubber-blade foot pocket and also the first one to thermofuse in a single element three different materials to improve the effort transmission. An interchangeable blade which is very lightweight and reactive and also well-adapted for the most demanding of free-diving use. The need to dispose of a removable version to install blades made of carbon or other different materials, leads us to the new Gara Modular, which allows the CRESSI experience with a several materials composition and many features.
The volume of the shoe has been resized after extensive anatomical studies, so that the volumes are proportional to the effect of enlargement that cause the socks depending on the size of the foot, does not follow a fixed proportion size to size as proportionally a small foot "fattens" much more than a large one when you put on the socks.
The new foot pocket combines two materials, a thermoplastic rubber with high hardness (shore 90), flexible but inelastic and really resistant according to the nerves, to the whole foot pocket's sole and to the exclusive strap over the instep aimed to make the effort transmission to be immediate without dissipate in rubbery compositions.
The instep incorporates on the middle a self-adjusting 2 cm wide strap, which allows a slight expansion (from 2 to 4 mm depending on the size) to fit in people who have high instep or also in case of using thick foot pockets. The expansion has been thoroughly balanced to avoid damaging the energy transmission.
The other foot pocket's part (grey area) has a flexible composition shore 50º to obtain the maximum comfort. This material extends in the area of the heel to perform a non-slip function when walking on a boat or on rocks.
The original blade is made of high-modulus propylene (2500 Mpa). It has lifelong warranty and highly elastic return. It incorporates two little antiskid spoilers on the final area. The decreasing thickness section (from 4mm to 2mm) causes the highly progressive tonnage eliminating the skid tendency, because the first half of the set is more rigid and the final half is more flexible.



CRESSI Gara Modular Long Freediving Full Foot Finss Features
Non-Vented Blade Design
Long Blade with Foot Pocket System
Perfect Choice for Deep Free Diving and Spear Fishing
Interchangeable Blade: Allows Diver to Replace Blades for Specific Diving Situations
Fin Perfect to Grow with as the Diver's Skill Level Increases
Interchangeable with CRESSI Long Fiberglass or Carbon Fiber Blades
Interchange in Minutes without Any Modifications
Self-Adjusting Multi-Compound Foot Pocket
Foot Pocket: Comfort and Suppleness / Stiffer Compound Under Foot & Heel Where Power Transfer Takes Place
Angle of Blade Provides Ultimate in Efficiency During Kick Cycle
Less Energy to Load Blade
Comfortably-Worn w/or w/o Neoprene Socks
Lightweight & Reactive, Well-Adapted for Most Demanding-of-Free-Diving Use
Blade Material: Special Reactive Thermo-Plastic
Soft Elastomer Foot Pocket Anatomically Wraps-Around-Foot
Foot Pocket Guarantees Perfect Transmission of Leg Fin Thrust
Shock and Abrasion Resistant
Snap Blade for High Efficiency
Available in Multiple Sizes: 38/39 - 40/41 - 42/43 - 44/45 - 46/47
CRESSI Long Fin Bag:
Unique-and-Functional Bag
Space to Store Fins, Mask and Snorkel
Easily Accommodates Longer Fins such as CRESSI GARA
Comfortable and Secure Transportation
Top Grab Handle
Construction: Durable Nylon and Plastic Materials
Zippered Closure for Easy Access
Measurements: 92.7 cm x 24.77 cm x 15.25 cm
Volume: 2,135 cubic inches (35 liters)
Color: Black