CRESSI Reaction Pro Full Foot Fins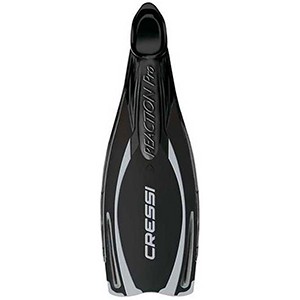 Contact Bluelize On Whatsapp
Please Text us on WhatsApp
+20 10000 65005 in case any inquiry.
CRESSI Reaction Pro Full Foot Fins.
CRESSI Reaction Pro full foot non-vented fins which has been developed after the Rondinella.
The CRESSI Reaction Pro fins frame is moulded using three different materials, according to the CRESSI patented system that guarantees surprisingly smooth and powerful kicking.
The first material is comfortable thermo-rubber (elastomer) anatomic, computer-designed foot pocket. The wide-soled foot is very comfortable and outstandingly enveloping thanks to the extensive use of elastomers material. Also, the soles are completely covered in thermo-rubber to give them an excellent grip on boat decks.
The second material is a new dual density (techno polymer) polypropylene which forms the blade, and in coupling with the third silicone-based material creates a channeling effect, which makes a high level of energy to be transferred in both up and down strokes of the kick pattern. The blade is rather long, and has a differentiated thickness - thicker at the front end of the foot, it gets progressively thinner towards the end of the blade.
The CRESSI Reaction Pro Full Foot Fins is designed and commonly used for Recreation diving, SCUBA, Snorkeling, Travel where they will surprise you with their fantastic performance.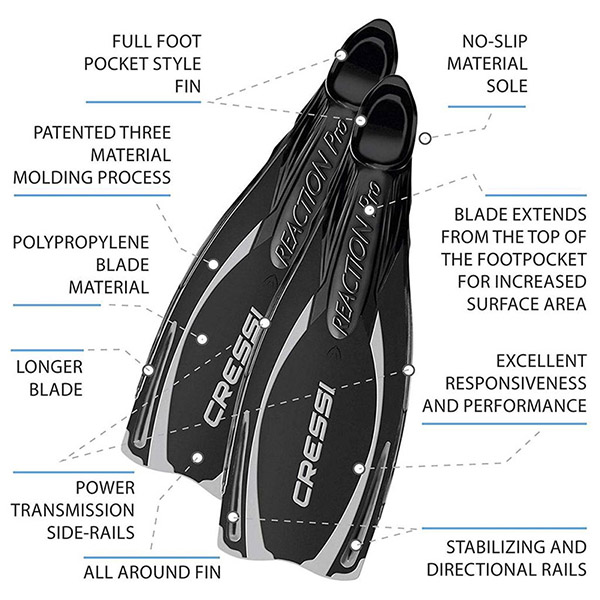 CRESSI Reaction Pro Full Foot Fins Features
Non-Vented Fin Design
Revolutionary Blade Three-Material Design
Foot Pocket: Thermo-Rubber Elastomer
Blade: Techno-Polymer Polypropylene
Channels: Silicone Based Material
Patented Foot Pocket Design Increases Blade Area by 20%
Dual Density Techno Polymer Blade Provides Power
Silicone Based Blade Inserts Provides Channeling
Easy, Nearly Effortless Kick
Snap Blade for High Efficiency
Shock and Abrasion Resistant
Soft and Comfortable Foot Pocket
Combine's Lightness, Thrust, Comfort and Durability
Available in Multiple Sizes and Colors